We Take The Scratches
Out Of Glass!
We Can Successfully Remove…
Scratches
Acid Etching
Chemical Stains
Mineral Deposits
Welding Spatter
Permanent Stains
Surface Damage
Graffiti Removal
We Service: Residential, Commercial, and Marine
Welcome To Scratch Doctors
Scratch Doctors specializes in removing scratches, mineral deposits, permanent stains, and any other type of damage from glass. Located in South Florida, we have been serving the marine, automotive, residential, and commercial construction industry for over 21 years. In addition to glass restoration, we also specialize in the application of the latest water repellant nanotechnology. Our protective hydrophobic coating is also known as "self-cleaning' glass, and it will permanently protect your windows and keep them looking amazing with little to no effort.
Scratch Doctors is committed to providing its customers the most reasonable prices, without sacrificing quality. We are the second oldest company in our industry, and although we're not the biggest…we're considered one of the best! Our reputation has been built on integrity, many years of experience, and a team of technicians that can be counted on to be professional, courteous, quality driven, and extremely well trained in every aspect of glass repair. No matter how big or how small your job is…call Scratch Doctors! Even if you don't use us, we'll do our best to help you out.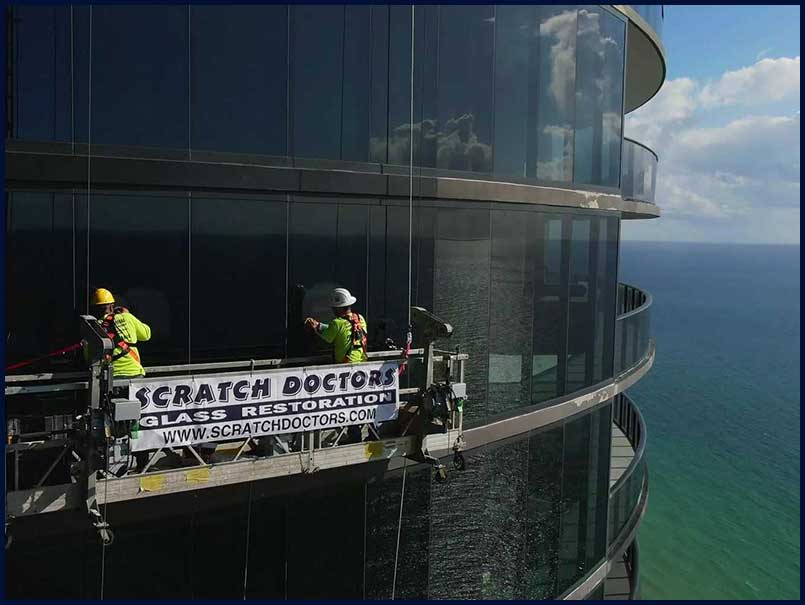 Here are a few other reasons why Scratch Doctors is the right choice for you...
Whether you need to fix a scratched piece of glass, remove stubborn mineral deposits, or you want to apply the latest nanotechnology water repellent on your windows…contact us today. Our technicians are professional, knowledgeable, and will treat your home, business, or vessel with the respect it deserves. Scratch Doctors is the company you can count on for all your glass restoration needs and much more…
Some Of Our Happy Clients
We Take Scratches Out Of The Glass!
Call us today at (786) 263-2825 to get a free estimate on your glass repair service.